Calgary, Canada. September 18th , 2017.
A 20,000 SmartSolo® system was deployed by Terrex Seismic, in Queensland, Australia for a ~370 km² 3D project, with temperatures averaging from -5 to +40° C, over a 1.5 month period, ending in September 2017.
According to Greg Dunlop, CEO of Terrex Seismic, "Our first project completed successfully with the new SmartSolo® system proved to us that we had made the right choice! The operational efficiency improvements, reliability and resulting data quality exceeded our expectations compared to previous nodal data acquisition systems experience. The light weight design and reliability, allowed us to roll our spread at a higher rate with less field personnel, increasing efficiency and reducing HSE exposure. Data quality is excellent and together with the high level of customer service provided by DTCC, the system checked all our boxes for excellence."
Gary Wu, Managing Director of DTCC, said: "I want to thank the Terrex Management and Operations team for their trust in SmartSolo®. Their professional and vast operational experience made our job a lot easier to provide them with focused customer service. Furthermore, by incorporating some of their product improvements, we were able to incorporate these quickly to further improve on their field efficiencies"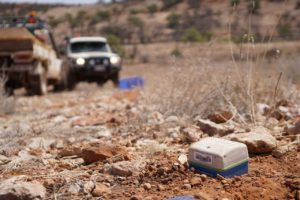 About DTCC
Dynamic Technologies (DTCC) is headquartered in Calgary, Canada and has multiple R&D, Manufacturing and sales/support facilities in Canada, China and USA etc. DTCC is a world leading manufacturer of seismic sensors. DT-SOLO series high sensitivity geophones are recognized by the industry as the most reliable high- sensitivity seismic sensors. DTCC's new product SmartSolo®  – World's First Smart Seismic Sensor defined a new category of seismic acquisition equipment.
About Terrex Seismic
Terrex is a Brisbane based company, which is a leading technology-focused seismic solutions provider incorporating acquisition related services: 3D survey design and modelling, seismic line preparation, spatial positioning survey, recording data, infield QC and processing, seismic line restoration.
Terrex provides cutting-edge seismic acquisition services, surveying and geophysical processing services to the global oil and gas, and resources industries.  With over 950 successful onshore seismic surveys, Terrex provides clients with peace of mind when it comes to maximizing the value of each client's exploration budget, adhering to its core values of safe performance, high-quality data acquisition and value-for-money.