Calgary, Canada. Feb. 14, 2018 – DTCC opens its SmartSolo® Experience Center (for hands-on demonstrations) in Beijing today, just before the start of the two-week Chinese New Year holiday.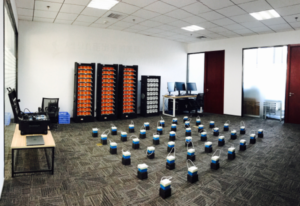 Located inside DTCC's office in the southern part of the city of Beijing, this Experience Center has over 300 channels of SmartSolo IGU-16, together with 2 complete sets of support equipment (one full-sized system and one portable system).  Clients can now experience first-hand the entire process of using the SmartSolo system, from deployment, retrieval, data harvesting and charging, and finally to data output.
This equipment can also be used for small short-term test projects at a client's job site. Clients in China, or those visiting China, who wish to experience the system are welcome to book an appointment with us.
Gary Wu, Managing Director of DTCC, said: "Many of you have seen information about SmartSolo on our websites, in YouTube videos and in advertisements. But I believe you will be even more impressed once you actually have SmartSolo in your hands and are using it.  You will then appreciate how easy and efficient the system is. Similar Experience Centers will be soon be opening in other parts of the world."