In recent year, seismic contractors using SmartSolo have always been able to finish their projects early, considerably ahead of schedule. SmartSolo has become well known for its small size, light weight, low power consumption and long battery life. However, these features are not the only factors contributing to the success of a high-efficient seismic project. Here we explain in more depth the real reasons why SmartSolo can be operated so efficiently.
The origins of SmartSolo high reliability
SmartSolo was designed as a single geophone receiver with no external connectors, avoiding downtime from connectivity and cable failures, eliminating spread equipment troubleshooting, and reducing crew effort. Designed to be operated in a multitude of environments, rigorous testing ensures a high standard of manufacturing and assembly is maintained.
Physical Reliability: All the IGUs in each test sample during manufacturing are turned on to start recording, and placed in a 1.5m (~5 feet) diameter steel hexagonal drum with internal paddles, where they are rotated a minimum 2000 times. All units are further tested with a minimum of 500 drops onto concrete from 2m (~6.5 feet). After the completion of each test, all units are checked for full physical integrity and functionality.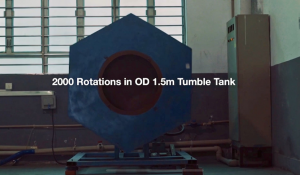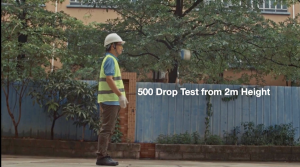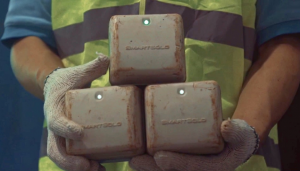 Sealed and Secure: SmartSolo is inherently waterproof, with a simple design having minimal potential points of water ingress, and a protective O-ring between body and battery pack. During and after many hundreds of disassembly/assembly, deployments and retrievals, the IGU housing is checked to be both airtight and watertight. The IGUs are buried in soil, retrieved, battery is then detached and re-attached, and the assembled IGU is placed 1m (~3 feet) under water for 2-3 days and checked for leaks. This has been repeated 100's of times, and results show that the seal between battery and main body works very effectively to prevent any dirt or moisture from entering inside IGU body, battery, or connection between the two parts. Simple reliable hardware = less downtime. It greatly improved productivity on any project.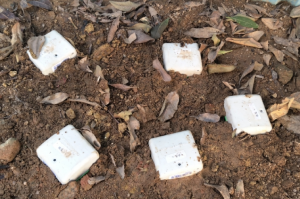 Efficient and reliable equipment operations in the field are only part of the story, as this needs to be managed by an equally robust and efficient software system back at camp.
Software Suite: The Data Management Console (DMC) provides a full suite of project setup and management tools, with receiver and shot pre-plot import functions, deployment checks, automatic IGU coordinate fitting functions, and deliverable data outputs. All the usual shot gathers, receive gathers and continuous receive gather outputs are available, and can be generated in SEG-D 1.0, SEG-D 2.1, SEG-D 3.1, SEG-Y, SAC, SEG-2 formats. The Data Collector Console (DCC) is used to handle IGU setup, hardware QC checks and reporting, and all data download duties. The DMC & DCC working together provides a powerful and well-organized software data processing package, enabling project data to be delivered efficiently.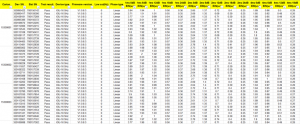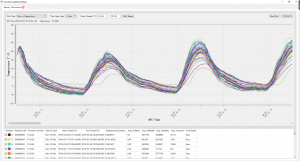 Data Harvesting Rack (DHR) and Battery Charging Rack (BCR)
With SmartSolo it is possible to keep rolling the receiver spread without the need for any standby time waiting for batteries to charge. With fresh battery packs already charged, and using 2 x 32 port Data Harvesting Racks, it has been possible to complete a full harvesting cycle of more than 600 IGUs in one hour. That includes unloading the IGUs from vehicles, downloading the data, performing instrument tests, and loading back onto vehicles ready for deployment. Each Data Harvesting Rack (DHR) is able to download from 32 IGUs at one time with an average speed of 20 MB/s for each IGU. The BCR is used for charging the IGUs' batteries. Each BCR has 48 slots, and charging time from fully discharged is 3.25 Hours.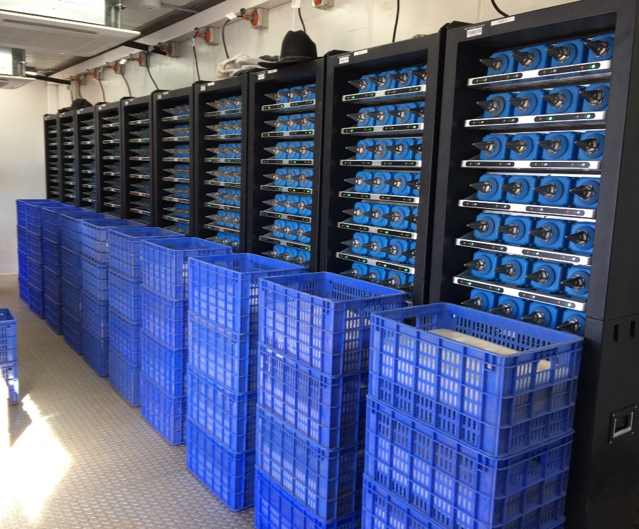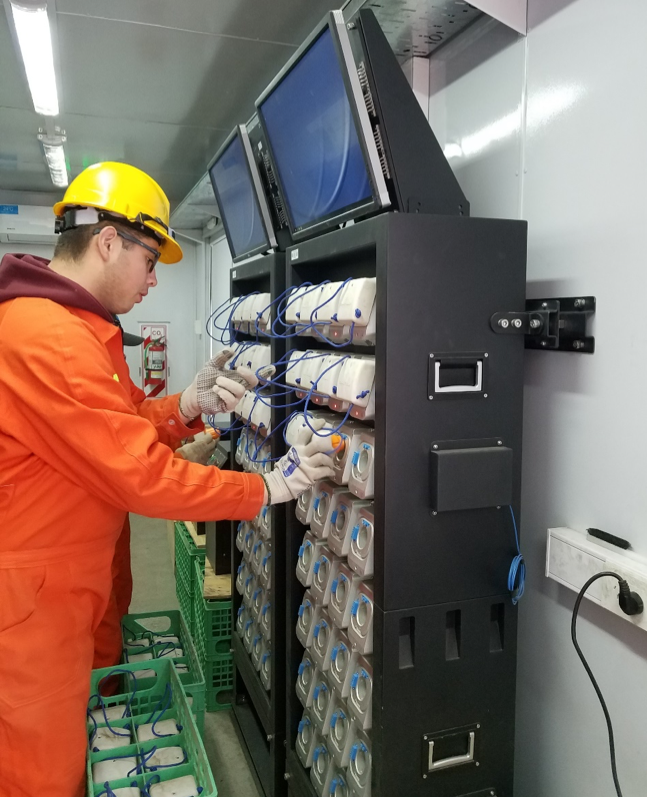 IGU Tester
The IGU Tester is used to perform acceptance testing of IGU-16s (both the electronics and the geophone). It can test 16 units at once, with the tester software application running on a laptop attached to the portable test rack. This provides a comprehensive range of user-selectable tests, with the results saved in the current project database.
Field deployment Tool APP
FDT App is used for scanning the RFID serial numbers of IGUs after deployment, in order to log the GPS location with line and station of where each IGU was deployed.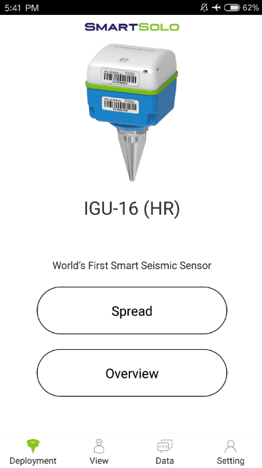 Auxiliary Box and Automatic Assembly/Disassembly Machine (ADM)
The AUX Box contains four IGU-16-AUX units. It can record up to four auxiliary analog signals with microsecond accuracy, using an internal GPS receiver (with external antenna) for timing. The Aux signals (e.g. TBS, sweep signal) are then offloaded by plugging each IGU-16-AUX into the Data Harvester, in the same way as normal acquisition IGU. The ADM is used to assemble and disassemble IGUs for offloading, battery charging and deployment.
In field operations, all the SmartSolo peripherals work efficiently to form a smooth workflow.
 
SmartSolo High-efficiency exploration in Australia.
Australia's largest seismic company Terrex used 20,000 channels of SmartSolo for a 560 sqkm 3D exploration project with total 150,000 receiver points and 10,000 source points, which was completed in just 65 days using a crew of 40 people.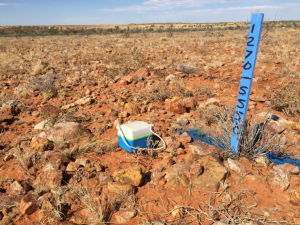 SmartSolo high-efficiency exploration in the mountains of Western China
40,000 channels of SmartSolo were used for a 546 sqkm 3D exploration project in some of the most challenging mountainous terrain of Western China, which was completed in 70 days.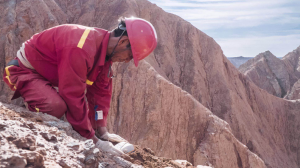 SmartSolo high-efficiency exploration in Qinghai, China
3300 channels of SmartSolo were used for a total ~14,000 receiver locations on a 2D/3D exploration in northwest China with original estimate of ~45 days to finish, but actually it only took 15 days to complete all the acquisition work.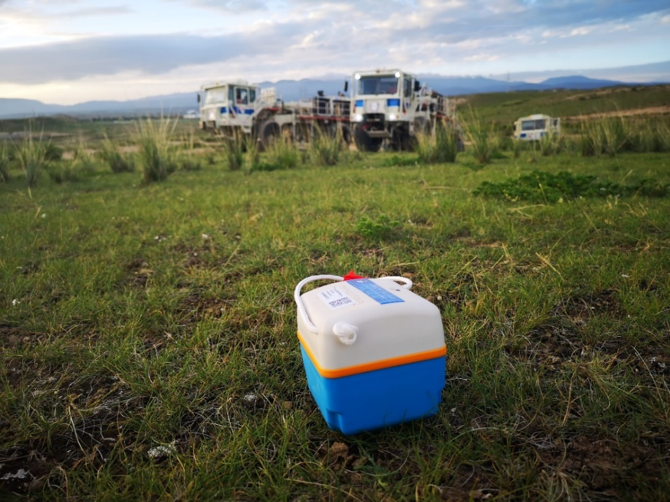 SmartSolo high-efficiency exploration in Argentina.
17,000 channels of SmartSolo were used for a 1300 sqkm 3D exploration project in Southern Argentina with total 60,000 receiver points and 250,000 source points, which was completed in 75 days using a crew of 100 people.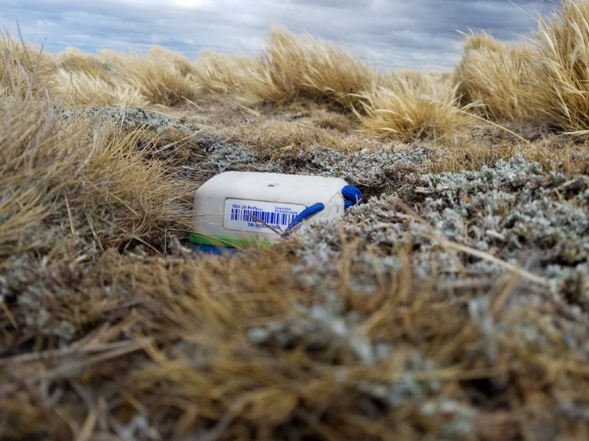 SmartSolo: making high efficiency exploration possible on high channel high-density projects.